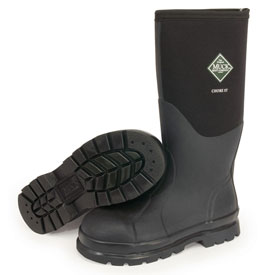 Muck Boots; they're pretty popular, especially on the job. When working outdoors, contending with the weather can be difficult. Rain can be an outdoor worker's worst enemy and working in muddy conditions is anything but clean. Chore Muck Boots help keep your feet clean, dry, and comfortable, even in the messiest of situations. With extra arch support, puncture protection, and durable, non-slip tread, these 100% waterproof boots are always up to the challenge.
So, what about finding your boot size? It's more important than you might think. Since foot size and shape can change over time, measuring your foot regularly can be a big help. Feet are 3-dimensional, so any measuring device can only give you an approximate idea of your true size. Also keep in mind that different styles are constructed differently. Therefore, it's important to try on every style to ensure a good fit.
The next time you don't want to get your good boots messy, choose Chore Muck Boots! At SunnySide Supply, we have different styles of safety Muck Boots to meet your needs. We carry Met Guard Chore boots, Steel Toe Chore boots, and Steel Toe Cool Chore boots. Our retail room is open for you to browse our selection!