SunnySide Supply is proud to be a Stocking Master Distributor of ErectaStep Modular Work Platforms and Stairs.  SunnySide Supply originally signed on as a stocking distributor in the US. However, over the past eight years SunnySide Supply has become one of the largest stocking distributors of ErectaStep Products in the United States.
From the flagship Industrial Stair Series, and it's configurable combination of 5 components: Prefabricated Metal Stairs, Metal Work Platforms, Industrial Handrails, Aluminum Ladders and Tower Supports, to our newest line of easy to install, Commercial stair kits, Sleek Spiral Stairs and Mono Stringer designer series to our cost effective Portable Stair Steps, all ErectaStep Products offer the same three key features… Maximum Safety, Efficiency and Value.
The 5 modular component design of ErectaStep platforms and stairs allows for unlimited configurations and cost savings in re-use.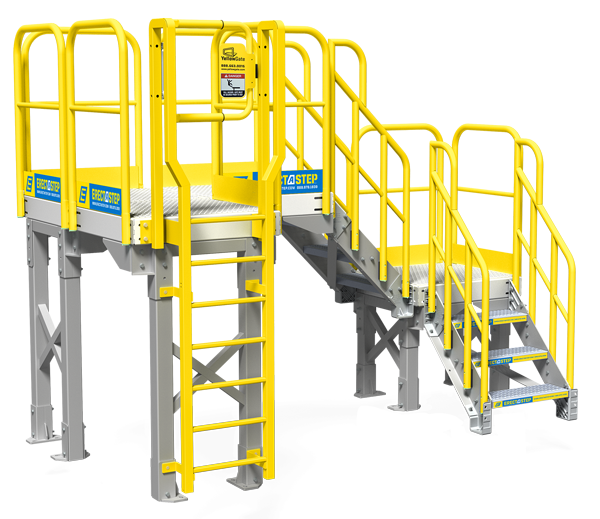 ErectaStep is leading the industry when it comes to design and innovation for all types of metal stair kits, with applications in all industries. In other words, we serve everyone from petrochemical, to manufacturing, commercial and warehouse distribution.
Our Occupational Safety and Health Administration (OSHA) compliant industrial metal stairs and newly introduced International Building Code (IBC) compliant stair series are precision manufactured and fully engineered with heavy gauge steel and aluminum for maximum safety.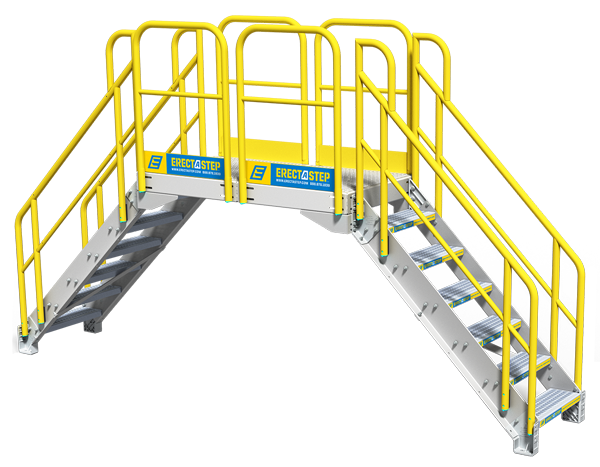 In 2018, SunnySide Supply worked with past ErectaStep customers to save them over $90,000.00 by re-purposing unneeded components from their obsolete facilities. See the testimonials below. We can do the same for you!
"I'm able to repurpose components when our operational landscape changes because of how easy it is to put the pieces together. Compared to fabrication, ErectaStep has saved me thousands of dollars.  Once it is installed, I never have to worry about it again.  Great Product!"
Jim Morrocco
Safety Coordinator
MarkWest Ohio Fractionation
"Great Product, Great Price.  Custom fabrication can't be done as quickly and effectively as ErectaStep, no question."
Dan Appel
Construction Manager
Whether you are building from scratch, or bringing your facility up to current OSHA standards, get started by contacting a representative today for more information on how ErectaStep Modular Platforms and Stairs can save your company time & money, through all phases of your construction and operation projects.
For information on how you can apply for Business Credit with SunnySide Supply, please email or call today to receive an application.