ARINAlert precisely measures the distance between mobile equipment and pedestrian workers wearing an ARINAlert Tag. The ARINAlert System has preset distances to determine the virtual danger zone.  The ARINAlert uses a 3 color light along with an audible alarm to alert the operator that a pedestrian worker is in either of the two danger zones.  The virtual danger zone distances can be adjusted for larger or smaller pieces of equipment or to the employer's preferred distances.  You may also add an ARINAlert Tag to high valued capital assets that need to be protected.
Pedestrian to Mobile
Mobile to Mobile
Blind Alert
ARINTrack
Hazard Alert
ARINAlert provides the operator with a "Personal Alert Light" that alerts them to the presence of pedestrian workers in the area.
In testing, ARINAlert provided alerts within 0.3 seconds of the pedestrian worker crossing the predefined virtual zone around the operator.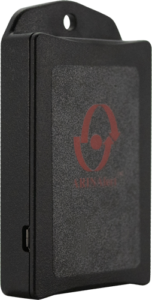 ARINAlert is also able to differentiate between workers, high valued capital assets, and other mobile pieces of equipment outfitted with an ARINAlert Brain Box or ARINAlert Tag
ARINAlert can keep track of many workers and assets simultaneously.
This component is the heart of all the ARINAlert system configurations.
Waterproof connectors are provided for power and alerting.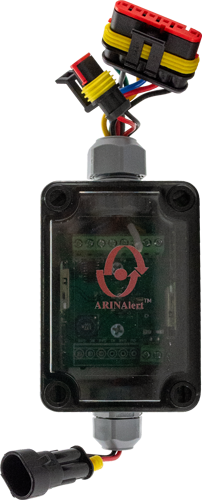 FEATURES & CONFIGURATIONS
Protects Mobile to Mobile Equipment
Requires at least two Brain Boxes
Programmable to Custom Virtual Alert Zones
Mobile Equipment to Pedestrian Workers
Brain Box & Tags
No Special Programing needed
Alerting pedestrians before they enter BLIND into a building or pathway of a mobile piece of equipment or overhead crane in that area.
At least two Brain Boxes and a few tags (one BB needs to be 120V)
Some special programming required.
Protects Pedestrian Workers from Mobile Equipment
System includes a Brain Box and 2 Tags
Programmable to Custom Virtual Alert Zones
This configuration is designed to track equipment routes and pedestrian worker (for safety & security reasons) in a warehouse or large facility.
Uses:
To evaluate efficient routes for forklifts and to reduce traffic congestion.
For "Work In Progress" reporting
To precisely identifies the location of assets indoor
The IPS (Indoor Positioning System) is accurate to within 1'
Components:
Brain Box for all equipment
Pedestrian Tags
IPS Anchor System that is mounted in the ceiling, used to triangulate positions
Data:
Securely Stored in the Cloud
Data belongs to the Customer
Configuration Programing is needed
Want to us to show you all the features and just how ARINAlert can help keep your workers safe from injury or even death? Contact us today to schedule a live demo.